the imp landline call-filtering system is live!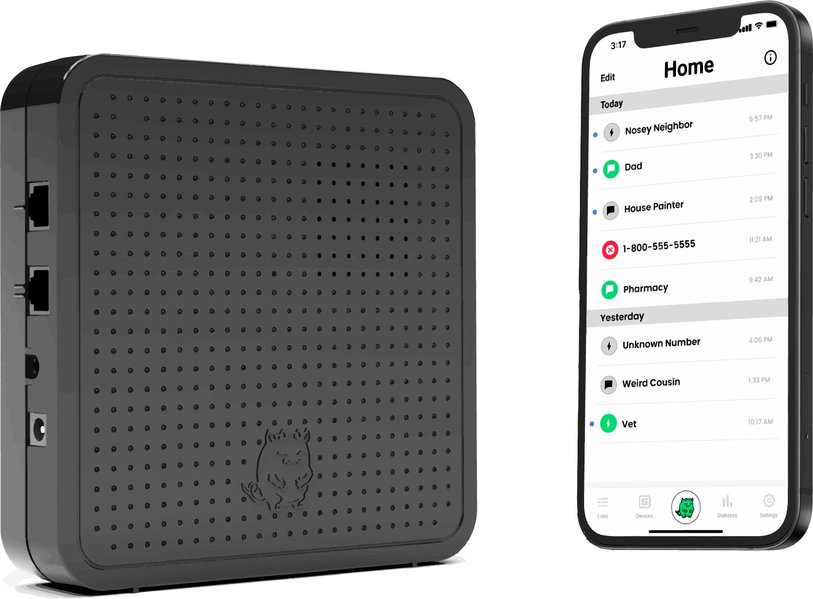 Announcing the official launch of imp™
the landline call-filtering system that puts an end to all unwanted calls
meet impTM: an overview
Meet impTM: the call screening, scam fighting, time saving landline solution that actually works. Guaranteed.
In its most basic use, imp stops all unwanted calls on your home phone.
With imp, no spam, scam, robo, or any other kind of unwanted call will make your phone ring ever again.
The imp call-screening system consists of three parts:
The impTM box: custom smart-home hardware, designed by old-school landline experts to stop unwanted calls.
the impTM app: our smartphone app where you can see (and control) everything that is happening with your landline.
GreenlistTM Technology: our secret sauce call-screening technology. At setup, imp uses Greenlist Technology to sync your smartphone contacts with your landline phone.
imp works with you to assign calls to 1 of 3 lists:
Wanted callers, who imp lets ring through, and where imp can also take a message if you want. These callers make up your Greenlist.
Callers where imp silently takes a message. These callers make up your Greylist.
And unwanted callers, where imp just hangs up on them. This is your Redlist.
With imp, the only calls you get are the calls you want.
get your imp today →
why impTM: call blocking doesn't work
Traditional call blocking does not work. By design these methods are meant to actually block specific known numbers from bad guys and it is impossible for these devices to stay up to date with the millions of new numbers created every month.
This became most evident when George, the founder of imp,™ first moved to NH. After settling in it, George could not believe how often the phone was ringing with unwanted calls. His first reaction was to try the obvious solutions which included signing up for the "Do Not Call List," trying every call-blocking strategy on the internet, and buying all of the call-blocking devices available. The fact that none of these options did anything to stop the unwanted calls just proved that call blocking simply does not work. Furthermore, it felt like no one was actually coming up with a solution to this growing problem.
With unwanted calls being the FTC's biggest consumer complaint, George decided it was time to do something. And he knew it had to be something different.
The first step was to stop thinking in terms of trying to block all of the unwanted calls. In flipping the approach on its head, recognizing that we really only want to hear our phones ring when it is from someone we know, George decided set off down this path .
The next two years were spent designing a system that identifies the calls you want and focusing on them. The unwanted calls are all handled behind the scenes so the customer is never bothered by these calls.
The result of this new approach to the old problem is imp™ - our smart call-filtering system for landlines.
how impTM works
The imp™ system consists of three components: Greenlist™ Technology, the imp™ box (our hardware), and the imp™ app.
Greenlist™ Technology
Our proprietary Greenlist™ Technology sorts your calls as they come in. The wanted (or "Greenlist" callers) are all of your known contacts. When one of them call your landline, this is the ONLY time you will hear your phone ring.
Redlist calls are the "bad guys." These are the ones you don't want to hear from. Redlist callers will never make your phone ring and will never be able to leave a message.
And everyone else is sent to the Greylist. If a caller is not on your Greenlist or your Redlist, then imp will silently send them to voicemail and take a message.
imp™ box
The imp™ box is custom hardware, designed by old-school landline experts to stop unwanted calls. Thankfully, you don't need to be an expert to set it up. All you need to do is plug the box into your landline and then plug into an outlet. Simple!
imp™ app
The imp™ app is the control center. This is where you can see (and control) everything that is happening with your landline.
Everything from checking who called, to updating your lists, to listening to voicemails wherever you are, the app is where you manage everything.
We are excited at where we have come in the last two years. From idea to prototypes to now protecting landlines all across the United States, this small but mighty imp™ is changing the world, one unwanted call at a time. We are proud to be sharing our official launch and as our imp™ community grows, we will continue to keep homes quiet and bad guys at bay.