TELEPHONES FOR SENIORS WITH DEMENTIA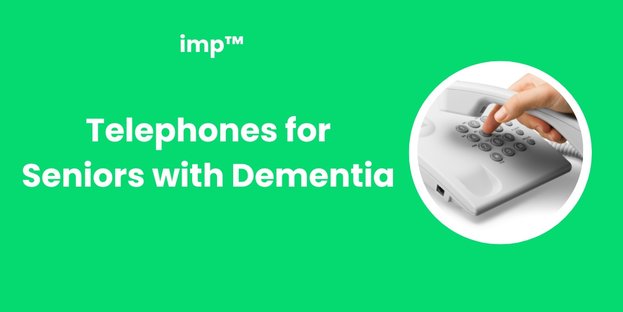 Finding the best telephones for seniors with dementia is an important priority when addressing the needs of anyone dealing with memory loss and the challenges it can present. And with a new diagnosis of dementia being discovered every 3 seconds around the globe, there is much focus on the importance of understanding more about the disease and how best to support both the person with dementia as well as caregivers and family members.
As a mobile generation, baby boomers tend to live away from their aging parents. This means that a good home phone is often the best form of daily communication. And connection is crucial when it comes to the care and well-being of a loved one dealing with dementia.
WHAT ARE SOME OF THE COMMUNICATION CHALLENGES FOR SENIORS WITH DEMENTIA
When it comes to staying in touch and keeping lines of communication open, seniors with dementia have certain unique challenges depending on the stage and severity of the disease. Very often, a person with dementia holds on fiercely to their independence while also experiencing the limitations associated with memory loss. What were once simple tasks, like using everyday technology for example, can become daunting or even impossible.
And as we learn and recognize how dementia limits certain abilities, it is vital to preserve ways to connect with others and using a landline telephone is the most straightforward - as long as it is the right one. Having a good phone system can also be part of a larger plan of aging in place. Being able to continue to live at home after a dementia diagnosis has shown to help a person to live longer, happier healthier lives.
WHAT TO LOOK FOR IN A TELEPHONE FOR SENIORS WITH DEMENTIA
With cognitive decline an unfortunate reality of living with dementia, we recognize potential limitations when it comes to using a landline phone. Are the buttons too small? Is the ring too quiet? Is it just too complicated to use? When preserving a sense of independence and the ability to communicate with friends and loved ones, making sure the phone is easy to use is vital. Luckily there are phones that will specifically offset these potential challenges with some pretty unique features.
Aging in Place, found 3 of the best landline phones and offered up these reviews:
CLARITY Amplified Corded Photo Telephone:
•Amplifies sound up to 20 decibels for those with trouble hearing.
•Nine programmable auto-call buttons.
•Can insert personal photos for programmed numbers.
•Vivid light ring indicator.
•Extra-large, high-contrast buttons.
•Simple design for those who don't like technology.


VTech CS6649 Expandable Corded/Cordless Phone System with Answering System-Caller ID:
•Caller ID and call waiting.
•Holds up to 50 calls.
•Speakerphones on both handset and base.
•Has quiet mode.
•ECO mode helps save energy and reduce radiation.
•Adjustable volume for hard-of-hearing.


Future Call FC-1007 Picture Care Phone:
•Ten programmable buttons for numbers.
•Buttons can be personalized with photos.
•LED lights brightly indicate ringing.
•Easy-to-see red 911 button.
•Ringer can be turned on high, low, and off.
•Loud volume for those with difficulty hearing.
protect loved ones with imp →
BUT WHAT ABOUT SENIORS WHO MAY BE A TARGET OF A SCAM OR SPAM CALL?
While it is important to offer phones that are beneficial to those with dementia and address potential challenges, there is another major concern - scammers are targeting the older population with vengeance. These calls are specific and directed to this demographic with the goal of getting as much personal information and potentially scamming them of money.
Seniors, and especially those with memory and confusion issues, tend to be more trusting and therefore likely to give up this personal information. And the consequences are immense. On average more than 3.5 million seniors lose more than $3 billion to scammers each year.
Some of the top scams aimed at older adults are healthcare scams, medical alert robocalls, charity scams, pandemic related scams and the sweepstakes scam.
THEN THERE IS THE GRANDPARENT SCAM
Scammers will leverage what they can to separate their victims from their assets. And using a "care and concern" approach is how these bad guys prey on grandparents. The potential victim will get a call from someone acting like a grandchild that pleads they are in trouble. Maybe they say they were in a car accident or have been arrested. The scammer can even create a sense of urgency by upping the drama and saying things like they are in the hospital for example and need help asap. And if the scammer did some homework, they may even have some personal info about the grandchild found through some social media snooping, helping them to sound pretty convincing.
A vulnerable grandparent may not want to take any risk and will hand over any info the caller wants. Now imagine a vulnerable grandparent who also suffers from dementia having to deal with a call like this.
stop spam with imp →
LANDLINE PHONES FOR SENIORS WITH DEMENTIA THAT HAVE A CALL BLOCKING FEATURE
Some models of telephones designed for seniors with dementia offer some version of call blocking technology. Like a traditional call blocker unit, these phones are built on the same premise - blocking known and reported scam numbers. When you know of a scam number, you can program it into the phone so in the future if a call comes in on this number, it will be blocked.
But this means you will first need to identify a number as a scam using the caller ID and or even answering the call. This can put quite a burden on someone with dementia. And caregivers rarely have the time - or the ability from afar - to monitor, log, and enter these numbers into the phone. Plus, there is the challenge of even keeping up with these numbers. Scammers are constantly updating and changing their numbers.
And more recently, there has been an increase in number spoofing . The advances in technology has allowed for scammers to actually "spoof" or create numbers that look like ones local to their target. That way, when someone sees the number on the caller ID looks somewhat familiar, they are most likely to answer. This alerts the scammer that the number they dialed is a good one and they will surely continue to call.
THE ONLY WAY TO PROTECT SENIORS IS TO STOP THE CALLS ALTOGETHER
In order to best protect the senior population we have to remove any burden of responsibility. It is a big ask for someone with memory and confusion issues to monitor and decide if an incoming call is spam or not. Plus needing to continually educate and remind them of all safety precautions so they do not fall victim when scam calls get through is just too much.
The only solution is to remove the risk altogether.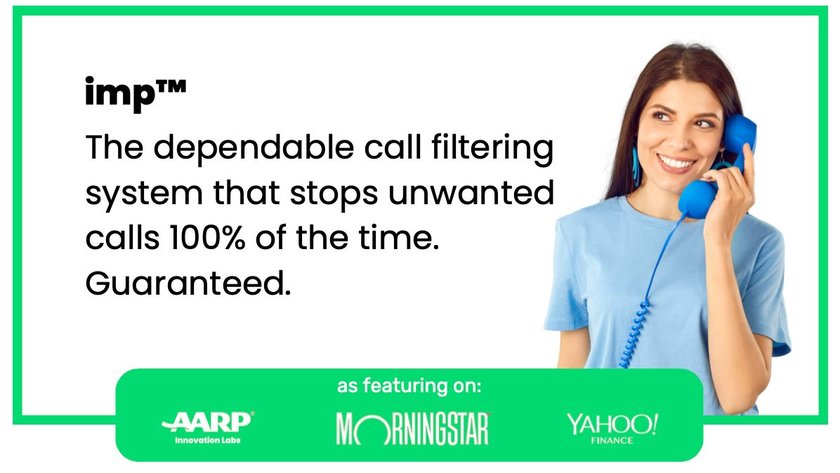 STOP UNWANTED CALLS BEFORE THEY START
This is where imp comes in. With the imp call filtering system, there are no confusing instructions or tricky things to remember. Once the plug and play system is set up, the caregiver can then sync their loved ones contacts with the app.
From this moment on, these are the ONLY numbers that will be allowed to ring through. imp stops the bad guys before they can even get started. No ring, no problem.
The person with dementia and their caregivers will never have to worry about whether the call is safe or not and they do not have to even think about any safety rules and precautions. And the caregiver can change and monitor all incoming phone activity from anywhere on their smartphone.
The imp system will solve any challenge when it comes to scammers targeting this demographic. Families can be comforted knowing that imp will ease the worry of whether their loved one will fall prey knowing that these scammers can not even get through the armor of imp.