HOW TO BLOCK CALLS ON A LANDLINE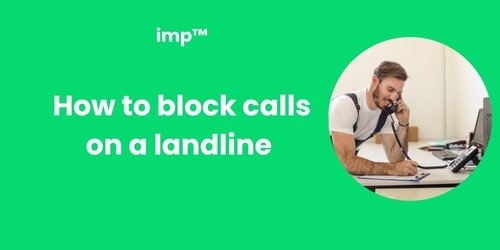 How to block calls on a landline is one of the top Google searched issues as it relates to unwanted calls. And with US landline households experiencing an average of 940 million calls a week from spam, scam, and robocalls calls, it is no surprise.
These unwanted landline calls tend to be everything from selling you a car warranty to rescuing a "relative in trouble." But no matter the pretense for calling, the goal is always the same: scammers are relentlessly trying to get unknowing consumers to hand over enough information so the scammer can use it to steal money or even your identity.
And while they are unfortunately succeeding, we will take a look at the recommendations in thwarting these characters by figuring out how to block them in the first place.
CAN YOU BLOCK CALLS ON A LANDLINE?
The short answer to the question of "can you block calls on a landline" is "kind of." Call blocking is an option but not a very clear one. There is plenty of advice out there on what to do to prevent these callers from ringing on your phone so let's jump right in.
BLOCK CALLS ON A LANDLINE BY SIGNING UP FOR THE DO NOT CALL REGISTRY
Very often, a consumer's first line of defense in stopping unwanted calls is to sign up for the Do Not Call Registry. This national registry is monitored by the Federal Trade Commision and was originally designed to stop unwanted sales calls and telemarketing calls.
With over 200 million numbers registered, it is clearly a method tried by many concerned consumers. Unfortunately, this solution is, well, not actually a solution.
As the FTC explains, their system is designed to stop sales calls from legitimate companies only. This is great as far as cutting back on telemarketers but really only works if they are compliant.
Scammers are not paying attention to the FTC. They surely are not checking the registered numbers to be sure they do not contact those homes that have opted to not receive unknown calls. They are calling all the numbers they can find.
start ending these unwanted calls →
HOW TO BLOCK CALLS ON A LANDLINE USING CALL SCREENING METHODS
Most service providers offer some sort of selective number blocking. Once you call your landline provider and ask for the service to be activated, and follow the steps to confirm activation, you can then use *60 (or whichever number they use) to begin blocking.
The instructions will guide you on how to add phone numbers that you want to block. This is manual process that involves entering the specific number including area code and pressing #. Repeat this until you have added all the numbers you want to block. Keep in mind, most providers limit the number of "blocked" entries you can store to between 5-30, depending on the provider.
And, in order to effectively block these numbers, you would have had to have already received a call from the spammer and saved the number.
BLOCKING UNWANTED CALLS ON YOUR LANDLINE USING A SMART HOME PHONE
Consumer trends and technological advances have given us newer and better options for landline phones. This has led to some of the big names in landline phones getting creative both in design and what they offer.
The traditional landline phone that we are familiar with came with standard options like built in answering machine and Caller ID capability. Today, many brands are creating phones that offer more enhanced features, are user friendly and accompanied by even bigger technology. The one feature catching most attention is the call blocking option.
This option works differently for each phone and all claim to block unwanted calls. While this is partially true, they cannot block them all simply based on the approach.
For example, Panasonic gives you the option to press a button during a call which will immediately end it and block that number from calling in the future. Unfortunately, this means you will still need to answer the call - which is annoying. Plus, scammers are changing and adding new numbers all the time so you will still hear the phone ring AND will need to answer AND then instruct to have that number blocked.
It should not be this hard.
start ending these unwanted calls →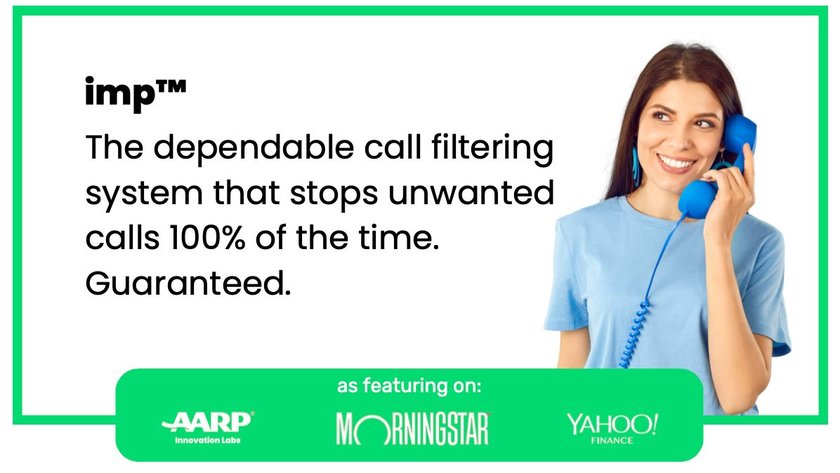 HOW TO BLOCK CALLS ON A LANDLINE WITH IMP
The imp system has the power to stop all unwanted phone calls –100% of the time. imp accomplishes total home silence by going about the "blocking" process in an entirely different way than traditional call blocker devices, Do Not Call Registry and smart home phones.
At its core, the imp system focuses completely on the calls you want. This means that your phone never rings from a spam call. So you never have to worry about those unwanted calls again.
How does this work? Using our Greenlist Technology, imp syncs your smartphone contacts to your imp box – the custom landline hardware which really becomes your landline's brains. Now that all your trusted contacts are in the imp system, those are the only callers that will ring through.
The result is that you no longer need to know or worry about the actual phone numbers of any unwanted callers. You can focus solely on the callers you actually want to ring through.
And imp will update this contact list in real time. So if you add someone to your contact list or dial out a new number from your landline, imp is smart enough to know you want to be in touch with this contact. Using the imp app on your smartphone, you can easily add, change and delete contacts keeping all your numbers nicely organized from anywhere at any time!
Still have questions about how to block calls on a landline?