CAN YOU BLOCK NUMBERS ON A LANDLINE?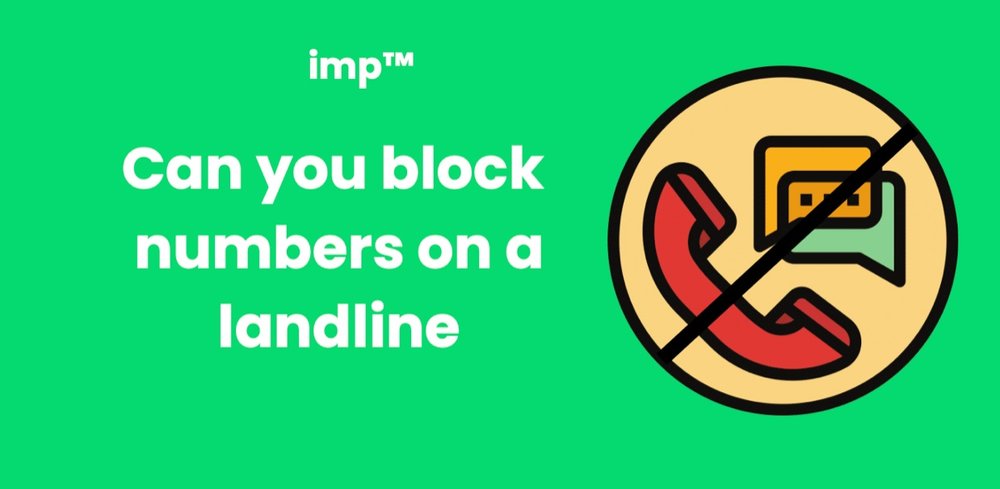 Searching the internet for things like "can you block numbers on a landline" is becoming increasingly common - and not surprising - given there are over 40 million households currently using landline phones. And with the constant influx of spams, scams and robocalls, there are bound to be numbers consumers want to block on a landline. So we are taking a look at not only how to stop these numbers but also why people want to block a number on a landline in the first place.
So why do you want to block numbers on a landline? Is it to control all the unwanted calls? Or is it purely to handle one or 2 known numbers? The answer is important as we discover how the endless amount of unwanted calls ringing on the phone actually cannot be solved by following traditional call-blocking methods.
WHAT IF I JUST NEED TO BLOCK A CERTAIN NUMBER ON A LANDLINE?
In theory, blocking a specific known number on our landline phones can be pretty simple. Most service providers offer some sort of selective number blocking offering. Once you call your landline provider and ask for the service to be activated, and then follow the steps to confirm activation, you can then use *60 (or whichever number they use) to begin blocking.
The instructions will guide you on how to add phone numbers that you want to block. But the gist of this strategy is that by following a manual process, you can enter the specific number including area code and pressing #. Repeat this until you have added all the numbers you want to block (or until you have reached the maximum number allowed by your provider - typically around 20).
WHAT IF I WANT TO BLOCK ALL UNWANTED NUMBERS ON A LANDLINE?
The desire to block all calls from unwanted numbers on landline phones is not new. Spam calls have been plaguing landline phones since the 1970's and without Caller ID, people had no choice other than to answer the call and hope it was from someone they knew. Through the years, different ways to block and stop these calls have been developed and a variety of suggestions are easy to come by.
But do these recommendations and proposed solutions actually work? We will look at a few of the top recommended options.
learn more→
BLOCK NUMBERS ON A LANDLINE BY SIGNING UP WITH THE DO NOT CALL REGISTRY
Very often, a consumer's first line of defense in stopping unwanted calls is to sign up for the Do Not Call Registry. This national registry is monitored by the Federal Trade Commision. It was originally designed to stop unwanted sales calls and telemarketing calls.
With over 200 million numbers registered, it is clearly a method tried by many concerned consumers. Unfortunately, this "solution" is not actually all that effective at blocking numbers on a landline.
As the FTC explains, their system is designed to stop sales calls from legitimate companies only. This is great for cutting back on legitimate telemarketers as long as they are compliant. But scammers do not care about these rules or the FTC. So while the "Do Not Call" Registry is better than nothing, it really does not provide all that much relief.
BLOCK NUMBERS ON A LANDLINE USING A TRADITIONAL CALL BLOCKER
Another popular method in trying to block unwanted numbers is by utilizing a traditional landline call blocker. While there are a few big names to choose from, the reality is that the technology behind this solution does not actually stop the unwanted numbers from getting through.
In fact, according to imp's Landline Landscape Report, 83% of landline phone owners are actively bothered by unwanted calls yet traditional call blockers are only stopping 5%.
Not only are traditional landline call blockers a failed solution, they end up only adding to our frustration since we expect them to actually work as advertised. But the problem is, these traditional call blockers are designed to only be able to block known spam numbers. In other words, the device needs to know the specific number that you want to block.
Why doesn't this work? Well these spam calling centers are constantly creating new numbers making it virtually impossible to keep up with capturing all of them in a database. They are also practicing what is known as neighbor spoofing which is a caller ID spoof strategy that creates numbers that look like they are from your area. The goal is to get people to answer the phone signaling to the scammer that it is a legit and active number. From here, your phone will be ringing nonstop.
learn more →
BLOCK NUMBERS ON A LANDLINE BY USING A SMART LANDLINE PHONE
Technological advances are working to keep up with the demand of consumers seeking a solution to stop spam calls on landline phones. This has given way to the development of a "smart landline phone" equipped with a call blocker to block the bad guys while letting the good guys through.
Each make and model of smart landline phones is a bit unique but all are tasked to do the same thing: block spam, scam and robocalls.
But the truth is that spammers are getting more and more creative in their tactics. And each of these smart landline phone devices can only block a certain number of calls. On top of that, the user is usually required to set up and monitor each call.
Added all together, this quickly becomes more complicated than it is worth. Factor in that spam, scam and robocallers are savvy, resourceful and relentless it will be an endless chore.
The bottom line is that even if you added 300 numbers to your smart call blocker system, there are literally hundreds of thousands more known spam numbers out there that you will not be able to identify until they call.
CAN I USE ALL THREE TO BLOCK NUMBERS ON A LANDLINE?
Combining all three of the above recommendations is a tempting - and maybe hopeful - way to think about successfully blocking numbers on a landline. But the result still falls far short of being an effective solution. Each of these strategies have their own shortcomings, so combining them does not give the protection from these spam, scam and robocallers we all want and expect.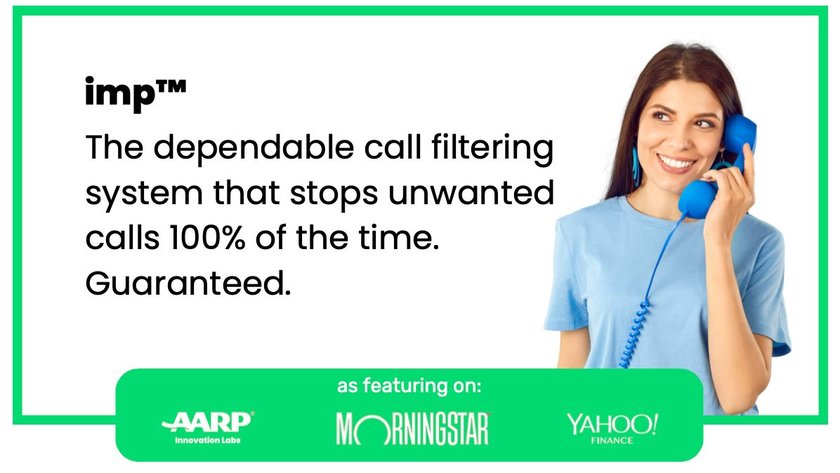 MEET IMP - THE ONE SIMPLE SOLUTION TO BLOCKING NUMBERS ON A LANDLINE
Why does imp work when the others don't?
Because it's not actually a call blocker but rather a smart home call filtering system. imp's technology focuses on calls a person wants to receive while never letting any unknown numbers ring through.
In contrast, traditional call blockers focus solely on numbers identified as spam which they then collect in a database. If one of these specific numbers calls on a landline phone equipped with one of these blockers, it will indeed block that call. BUT this is only true IF the number is in the collected database. With the mass amount of new numbers created everyday plus the mentioned spoofed numbers, it is impossible to block every unwanted number. This is why traditional call blocking is set up to fail.
With imp, this process is entirely different. First, your setup is quick and easy without a lot of complicated instructions or equipment. When you get your imp box, you simply plug into your landline phone and that's it!
Once you are set up, the imp app walks you through the pairing of your contacts using our The Greenlist Technology. From this point on, the only ringing you hear will be from your known contacts. And the system is fully customizable so you decide who gets through and who never gets heard from again.
When a call comes into your landline phone, imp checks to see who it is. If imp recognizes the caller, your phone rings. And if not, imp silently handles the call for you.
Depending on your settings, the caller has an option to leave a message, which can be accessed from anywhere through your smartphone, turning imp into a smart home answering machine. If the caller is in fact someone you do want to be able to ring though, but maybe was not on your contact list, you can just move them over to your Greenlist with a simple swipe right in the app. Or if when you check the message you discover the number is behind that dreaded auto warranty scam call, you can then add it to your Redlist and you will never hear from them again.
Still have questions about whether you can block numbers on a landline?