The Best Spam Call Blockers - Landline Phones 2023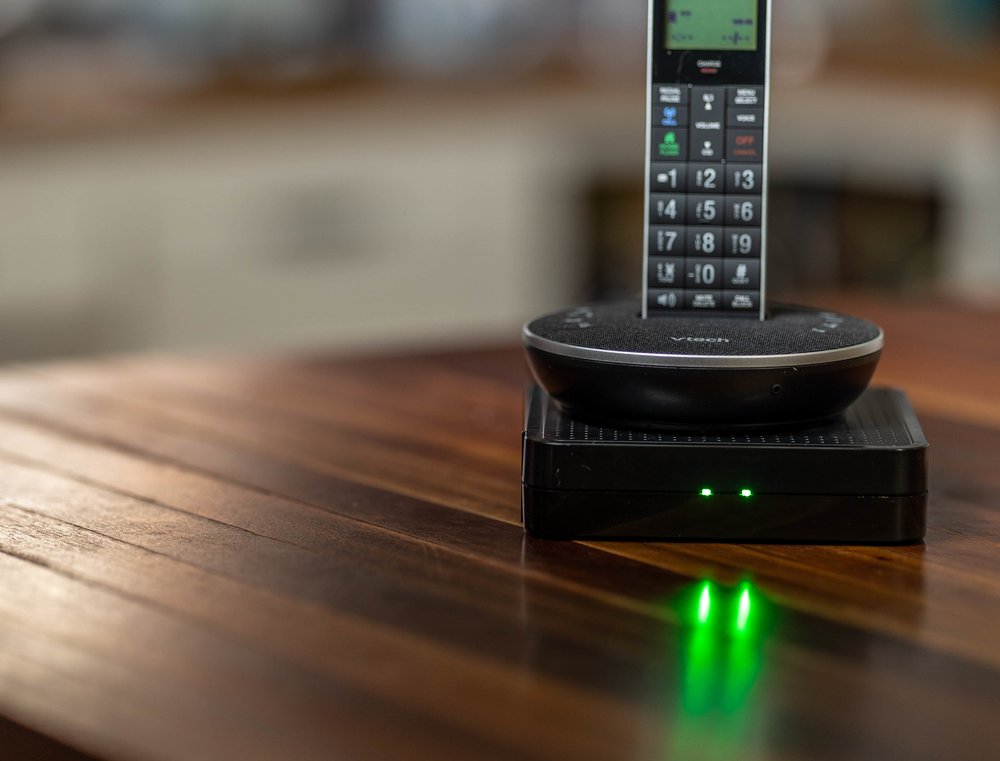 Spam calls have increasingly become an unwelcome disruption to our daily lives, causing annoyance and raising concerns about privacy and security. Unfortunately for many, traditional spam call blocker solutions for landline phones simply don't cut it.
Most spam call blockers only block a few bad actors who repeatedly use the same numbers. And techniques like caller ID spoofing can make a spammer appear like a neighbor is calling, further complicating things.
Most landline spam call blockers can also only store a small set of numbers, which is nothing compared to the hundreds of millions of potential phone numbers scammers can exploit. Furthermore, these blockers often require users to block calls after they have already rung through, causing inconvenience and frustration.
This article will explore the best spam call blockers for landlines in 2023, discussing each option's unique features, strengths, and weaknesses.
From cutting-edge machine learning algorithms to crowd-sourced databases, we'll explore various spam call blocker technologies and equip you with the knowledge necessary to make the right choice for you.
CPR Call Blocker V10,000
The CPR V10,000 is a spam call blocker designed to reduce unwanted calls and provide users with a hassle-free communication experience.
One of the key features is the device comes preloaded with 10,000 numbers, allowing users to manually add 2,000 more blocked numbers on your own.
Another notable feature of the CPR V10,000 is its caller ID functionality, clearly displaying the caller's name and number on its screen. This helps users to identify and then manually block unwanted calls.
It's compatible with most telephone service providers and works with both landline and VoIP systems, making it a versatile solution for a wide range of people.
While the CPR V10,000 offers a blocking capacity, it may not be as effective in blocking calls that use Caller ID spoofing techniques, as these calls appear to originate from legitimate or familiar numbers.
Users must also manually update their block lists to stay ahead of spammers, which may be time-consuming and inconvenient for some individuals. This also requires users to take action after the fact. But trying to block a scam caller after they ring through is already too late.
Overall, the CPR Call Blocker V10000 offers a blocking capacity of up to 12,000 numbers, a larger caller ID screen, and compatibility with various telephone service providers..
Pros
· Pre-loaded with 10,000 numbers
· Large caller ID screen
· Wide compatibility (landline and VoIP)
Cons
· Only stops ~5% of unwanted calls
· Limited effectiveness against spoofing
· Requires manual blocking (limited to 2,000 numbers)
see a side-by-side comparison of CPR versus imp →
Call Control Home
Call Control created a popular mobile spam call blocker app designed to combat the persistent issue of unwanted calls. They tried to leverage this technology into a landline spam call blocker, Call Control Home.
Call Control Home's primary feature is its community-driven Community IQ database, a crowdsourced solution that tries to stay up to date with the latest spam call trends.
Call Control also employs a call-blocking algorithm, which utilizes machine learning algorithms to identify and block potential spam calls proactively.
By analyzing call patterns, frequency, and other factors, the app can filter out unwanted calls, even from numbers that have not yet been reported by users.
Furthermore, it offers customizable settings that allow users to tailor the app to their specific needs and preferences. Users can create personal block lists, whitelist trusted contacts, and even schedule "Do Not Disturb" periods during which all incoming calls are silenced.
While the AI-driven approach and community-driven database contribute to the app's overall effectiveness, they can occasionally lead to false positives. In our testing, Call Control Home actually hung up wanted calls 78% of the time.
This means that legitimate calls from unknown numbers might be mistakenly identified as spam and blocked, potentially causing users to miss important calls — a problem that occurs more broadly with other traditional spam call blockers.
In total, Call Control Home performs on par with CPR Call Blocker, blocking only about 5% of unwanted landline calls.
Pros
· Crowdsourced database of blocked callers
· AI-driven call-blocking technology
· Customizable settings and features
Cons
· Blocks only ~5% of unwanted calls
· Blocks wanted calls 78% of the time
· Creating an "allow list" is slow and clumsy
· Requires WiFi and a Smartphone
see a side-by-side comparison of Call Control versus imp →
NoMoRobo for Landlines
Like Call Control, Nomorobo's beginnings are in smartphone apps. Its app is a widely recognized spam call blocker for mobile phones, designed to protect users from the growing problem of unwanted robocalls and telemarketers. A key feature of Nomorobo is its real-time, cloud-based blacklist that is updated continuously.
This dynamic database contains a vast collection of known spam numbers, enabling the service to detect and block unwanted calls with remarkable accuracy. By leveraging its constantly updated blacklist, Nomorobo offers users a highly effective defense against robocalls and telemarketers.
The service allows users to maintain a personal whitelist of approved numbers such as friends, family members, and other trusted contacts.
Users can report new spam numbers directly through the app, contributing to the ongoing improvement of the service for the entire community.
Nomorobo also places a strong emphasis on user privacy and security. The service does not collect or sell your personal information.
While the service is free for landline users, you do get what you pay for. For example, NoMoRobo still allows calls that are in compliance with the FTC "Do Not Call Registry." This means that political calls, charitable calls, debt collection calls, purely informational calls, surveys, and calls from companies you've recently done business with will still be able to ring through.
And even those calls that are stopped will make your phone ring once before NoMoRobo can catch up and stop it.
Like many spam call blockers, Nomorobo may struggle to block calls that use Caller ID spoofing techniques. These calls appear to originate from legitimate or familiar numbers, making it more challenging for call-blocking services to identify and block them effectively.
For those whom landline scam callers are not a problem, Nomorobo can offer a basic solution.
Pros
· Real-time, cloud-based blacklist
· Customizable whitelisting
· Strong privacy commitment


Cons
· 92% of unwanted calls still get through
· Not easy to update your contact lists
· Trustpilot rating of 1.7 / 5 Trustpilot Trust Score
imp
imp is radically different from the traditional spam call blockers above.

How?
Because imp starts by focusing on the calls you actually want instead of the calls you don't.
Why?
The short answer is that it's much easier, faster, and reliable.
On average, people have close to 700 contacts in their contacts. Compare that number with the hundreds of millions of possible phone numbers scammers have access to. Even if you pre-loaded a device with one million scam phone numbers it would be less than 0.01% of possible bad guys.
imp works by checking each and every call that comes through your landline. If it's someone imp recognizes, the phone will ring. Otherwise, will silently handle the call for you, sending the caller to voicemail, without your phone ringing once.
imp also serves as an important tool for remote caregivers. By sharing real-time call information, users can check in to see who's calling as well as listen to any voicemails from wherever they are.
Users can keep their current phone as well as their current phone number. And all it takes is 5 minutes to plug-and-play your way to stopping unwanted calls forever.
Pros
· Stops 100% of unwanted calls - before they ring
· Anytime, Anywhere Access and Remote Management
· Military-grade Security
· Unlimited Contacts and Phone Numbers
· 4.5 / 5 Trustpilot Trust Score


Cons
· Requires WiFi and a Smartphone
starting stopping unwanted calls with imp →
Choosing the Right Spam Call Blocker for You
The best spam call blockers for landlines in 2023 offer a powerful and diverse array of solutions to help you combat unwanted calls effectively.
Each option has its unique strengths and limitations, catering to different user preferences and needs.
But in a world where it is cheap and easy to place scam calls by the thousands, you and your loved ones are always just one call away from danger.
That's why it is essential to stop scam calls before they start.
And imp is the only solution that does this 100% of the time.
Still have questions about the best spam call blockers?